Mother's Day Giveaway Sign Up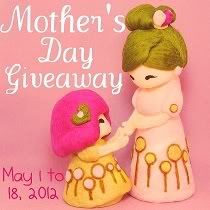 Let's celebrate the Mother's Day 2012 with a blast by co-hosting a grand giveaway on May 1 to 18, 2012.

Sign up now for the Mother's Day Giveaway which will be open worldwide. The fee to sponsor is only $5 for one link, $10 for two links and $13 for three links. Non-cash sponsorships are also accepted!

Click here for more details about the upcoming event.
Don't forget to write Chic Foodies referred you.